CHELSEA FOOTBALL CLUB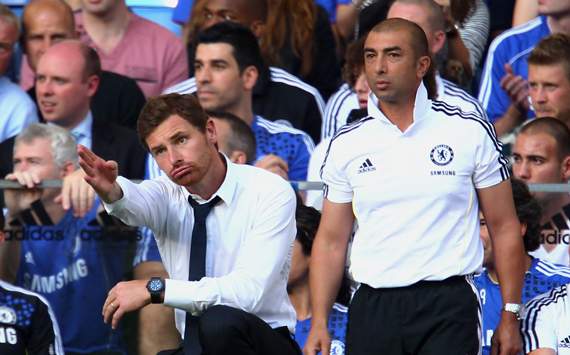 Chelsea's Manager - I cannot think what he had done?
Last week,CHELSEA played against Wigan. But, everybody knows about the result. CHELSEA just getting draw. This is big problems.Board of management should think and find some ideas to solved this achievement. As a Chelsea fan, we are very sad about this situation. To be the Champion, many of the players should be change or find another new skillful and powerful players from other teams.


Last few days, we are very happy to hear the reports - " in recent days have suggested that Chelsea are preparing to make a £30million bid for Higuain, who has been linked with a move to Stamford Bridge throughout the year." BUT, IS THIS HAPPEN OR BECOME REALITY?... The Blues' interest in the Argentina international is believed to have increased in recent weeks as manager Andre Villas-Boas considers bringing in a new striker in the New Year.
Who is this player? His fullname is Gonzalo Gerardo "El Pipita" Higuaín (Spanish pronunciation: [ɡonˈθalo iɣwaˈin]) (born 10 December 1987) is an Argentine professional footballer. He was born in France, attaining Argentine citizenship in 2007, and now holding dual nationality. He currently plays as a striker for Real Madrid and the Argentina national football team.

| | |
| --- | --- |
| Gonzalo Gerardo Higuain | Hiduain - Real Madrid player |
| Do you find something in your life? | Try for struggle you life in home base business! |
THE NEWS FROM ENGLAND: Andre Villas-Boas will be looking to improve Chelsea in the January transfer window. The team has been inconsistent and coming off its worst performance of the year, it looks like the Blues are a long way from a trophy. With that said, they are still alive in three competitions. Depending on the players the Blues bring in, the squad could snag a trophy or two. New players would mean new talent, as well as some depth. Accordingly, the Blues will be looking to add some solid players. I have compiled a list of five players who have been linked to Chelsea in December. Not all of these players will end up in Chelsea blue, but a few of them could definitely help.
Here, another paper cutting from blog writer. Read and think what he wrote ???
Chelsea vs. Napoli: Massive Challenge Awaits the Blues in UEFA Champions League
By Mohamed Al-Hendy
(Featured Columnist) on December 16, 2011
Chelsea may have avoided facing off with the likes of Barcelona by topping their group, but they will be facing off against arguably the second strongest second-seed in the competition in February when they take on Napoli. Although Chelsea and Andre Villas-Boas will be happy to have avoided AC Milan, Napoli will be no walk in the park for Chelsea. Indeed, to reach the Round of 16, Napoli impressively navigated their way through a "group of death" which involved Bayern Munich, Manchester City and Villarreal, all strong teams that come from the most respected leagues in Europe. In addition to collecting the full six points from an off-color Villarreal team, Napoli managed to impressively take four points off of Manchester City, which ultimately doomed the Manchester outfit's Champions League campaign. This is Napoli's first year in the UEFA Champions League, and Walter Mazzarri has made it clear that Napoli's No. 1 priority this season is the Champions League.
That means that Napoli will not be satisfied with simply having made it to the knockout stages—they will be going for the win and progression to the quarterfinals when the two teams face off in February. Napoli do not necessarily have the most fearsome team in the world, but the backbone of the team is highly impressive. In Marek Hamsik and Edinson Cavani, Napoli have two huge advantages that Chelsea don't—a young midfield playmaker and a young center forward, both in their prime and among the best in the world in their respective positions. Chelsea's best answers to those two players are Frank Lampard and Didier Drogba—two 33-year-old former greats who are approaching the end of their careers. Ezequiel Lavezzi completes Napoli's attacking triumvirate, but the magic doesn't stop there. Summer acquisition Gokhan Inler has added real tenacity to Napoli's midfield, while Paolo Cannavaro and Hugo Campagnaro have continued their excellent defensive work for Napoli this season in front of goalkeeper Morgan De Sanctis, who has been in great form himself for more than a year now. Finally, Italy international Christian Maggio is capable of regularly supplying assists as a right wing back for the team, and Goran Pandev's impact as a super sub for the team cannot be ignored either. Chelsea definitely has the advantage in experience in this matchup. Most of Napoli's squad have had zero Champions League knockout experience prior to this season. But as Tottenham Hotspur showed last season, that might not really matter. Often, quality is the most important aspect of a football game, and enough of it can trump all the experience in the world. If Chelsea's younger guns are in good form, and especially if the team recruits a decent talent or two in the January transfer window, this should be a matchup that Chelsea can edge to qualify for the quarterfinals. But if Chelsea go backwards from where they currently are, and the team is still looking to the likes of Drogba and Lampard for inspiration, Chelsea could have a very tough task ahead of them.
"The Money Is In The List"
AWeber proves it to thousands of businesses every day.

Learn how email marketing software
can get you more sales, too.
Bacaan tambahan, layari
Cikgudee-deeShoppe.com